1985 Chevrolet Corvette -
$20,995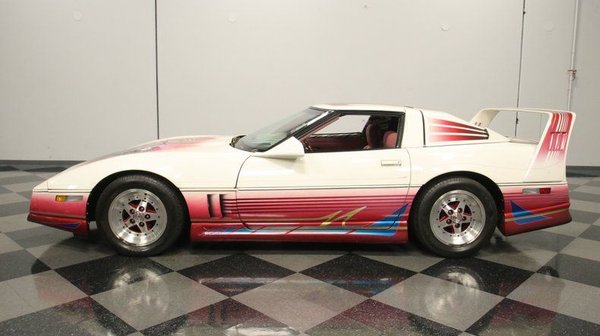 Business Seller - Streetside Classics-Atlanta
LITHIA SPRINGS, GA , US
Description
This 1985 Chevrolet Corvette has been customized over every inch. The body is an explosion of custom color. The interior not only has custom fabric but has also been distinctly embossed. Even the fuel-injected V8 has been customized with a ton of bling. So yes, this is one of the most unique machines you're going to be able to get your hand on.

Have you ever wanted to look like the final boss on GTA Vice City? This full custom setup really does look like it has stepped out of a different era. And when you look at it up close, you'll start to wonder just how much was invested here. There's a nice pearlescent in the white, and it has an even fade to red all around the full car. You can almost hear the keytar solo as you inspect the full graphics package on the rockers. There's also a full custom body kit, including a rear hatch cover and large rear wing. And of course, there are enough ferocious cats airbrushed on there to make anyone from Tiger King jealous (there's even one on the undercarriage!) And while the styling is certainly unique, it's also no joke.
This is the kind of appearance you'll want when attracting a ton of attention, and we bet there will be a few movie shoots and music videos that would be interesting in this Corvette.

The full white tiger theme continues inside. The dash, door tops, roof bar, rear panel, and even the seatbacks all capture this feeling. And this is a true full custom package with unique mauve upholstery and details like the door jambs even have pinstriping to match. This is the kind of full build where you're going to even want to show off the custom embossed trunk. But the appeal here is more than just the unique elements. It's a loaded car with power windows, power locks, upgraded wood trim, a targa roof, a Delco/Bose AM/FM/cassette stereo, and provisions for factory air conditioning (likely just needs a charge to blow cold again.) And of course, a Corvette is a great driver's machine with well-bolstered bucket seats, an upgraded sports steering wheel on a tilt column, and a full digital gauge package.

The custom investment continues under the hood. There's airbrushing in the air intake and on the back of the hood. Plus, you instantly can see the golden glow from all the custom upgrade components on the motor. But while it looks distinct, you'll also be happy that underneath it all is a hardy L98 350 cubic-inch motor. It makes for a fuel-injected powerhouse that lives up to the power you want in a Corvette. The four-speed automatic transmission w/overdrive, power steering, fully independent suspension, and four-wheel power disc brakes are all part of a terrific anytime driving package.

Complete with owner's manual, we don't have to tell you this is a distinct custom Corvette, because your eyes already recognized it from any angle. So if you were intrigued by this one-of-a-kind, then you also know you may never get another chance at something like this again. Call today!!!