03 Haulmark 40ft stacker (34ft box) Full Pro Awning -
$39,000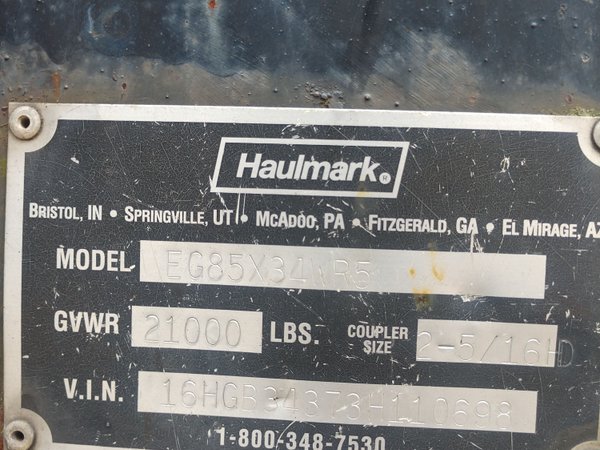 Private Seller - bradhansen
BREMERTON, WA
Updates From Seller
CONTACT
Brad Hansen
360-393-7969
[email protected]
call/text Above Added: Sat March 14, 2020, 10:35 am PST
Description
2003 Haulmark
40' overall length (34ft box, 6ft tongue)
102" wide
3– 7000lb axles electric brakes
6 new trailer tires 235/75R 17.5 18 ply (approx. 1000miles)
Polished Stainless Steel wheel covers
Pit pal spare tire wall mount brackets
1 new spare wheel and tire
1 used spare wheel and very good tire
Brake inspection and bearing grease pack (1000 miles)
6 new hub seals (1000 miles)
One new brake backing plate (1000 miles)
Center leg hydraulic landing gear
50' shore power cable
8ft loft
Loft has 120v outlet
6000lb 24ft long Gemini dragster lift
4– new spare dragster lift travel pins
15 lower floor large D-ring tie downs
8 upstairs/lift D ring tiedowns
L-shaped cabinet package with overhead cabinets
External generator access door (no generator)
Bench top air and electrical outlet
3-door wheel well cabinet 70"L x 10"W x 75"H with 12 shelves
4 door wheel well cabinet 106"L x 8 3/4"W x 75"H with 18 shelves
Above wheel well cabinet 52"L x 13"W x 32"H
Arrow wall mount flip up aluminum bench
48" walk in side door
Aluminum fold over entry step
Pitpal walk in door cabinet
walk in door aluminum chemical tray
36" new black wall carpet
6 internal 2 plug electrical outlets
4 external 2 plug outlets (2 up high for awning lights)
2 external air outlets
All new LED clearance and rear lights.
Roof access hatch
2 roof vents
34ft Arrow awning blue and white
Brand new spare red Arrow awning
Awning poles have Arrow Awning cable quick pin release for latching from ground level
Awning side wall framework
Rear trailer ladder access for upper level
Sony stereo
Outside speaker hookups
4 new internal stereo speakers
New 7-pin trailer/truck plug in
2 5/16"ball 25,000lb trailer receiver hitch
Heavy duty rear door flip over ramp
Rear door SuperWinch Terra 4500 winch with remote (brand new)
Rear door winch has own battery with trickle charger
Under cabinet winch has 40ft long remote switch lead
Under cabinet winch cable length 50'
2-2 bulb 4ft fluorescent lights in work area
4-All new internal ceiling LED lights
12- 12v upper and lower lights
4 Pit side external Halogen lights
1 rear door halogen light
Husky air compressor 33G, 1.7HP, 165psi on/off switch down stairs
Pitpal aluminum air hose hanger wall mounted next to compressor


The Exterior of trailer is in great condition with hardly any paint scratches or dents. Cosmetically in very good shape. Just recently did a light polish and wax on interior and exterior.
The interior walls look pretty good. I have touched up painted the scratches and used white plastic hole plugs on drilled holes so looks pretty decent.The front red cabinets have a couple minor dents and have a little touch up paint spots but they are in great condition. The black wheel well cabinets are in perfect like now condition.


Payment Details
Accepted Payment Methods
Cash
About The Seller
PRIVATE SELLER
bradhansen
Member Since February 2005
Honor Payments
Lifetime: 0
Last 12 months: 0
Learn More
No Achievements Yet