1985 Mercedes-Benz 280SL -
$25,500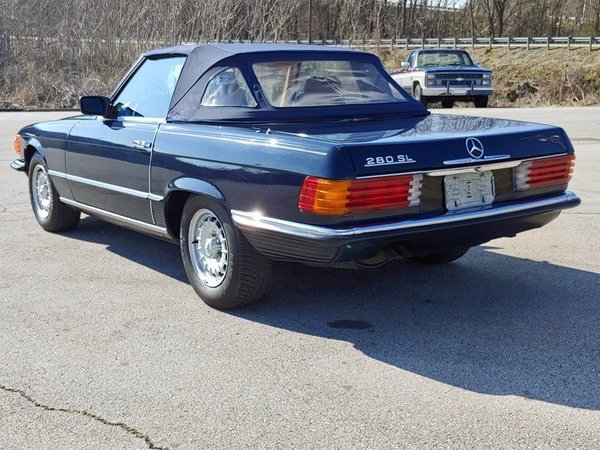 Business Seller - Vintage Planet
Cookeville, TN
Description
The Mercedes SL is one of the most iconic cars ever produced. This generation of SL (known by their Mercedes internal designation number "107") is a very hot on the collector market. With a timeless design and world famous build quality, the cars never lost their attraction. This particular car is finished in a beautiful and rare "Dunkelblau" dark blue metallic blue with "Dattel" rich tan leather interior. It is powered by the famous 2.8 Liter twin cam engine developing 185 HP. It is backed a 5 speed transmission which was a rare option.
Mercedes-Benz Enthusiast who know this generation of 280sl considered to be one of the best if not the best driving SL of the series. The alloy straight 6 engine makes the front end of the car lighter than her V8 sisters which gives sporty handling and created a better balanced car. This twin cam design put out more horsepower than any of the US market V8 powered SL's save the 5.5 liter 560SL. The 5-speed manual transmission, which was very rare even in th 280s, provides good acceleration and exceptional high-speed cruising ability all while providing much better fuel economy than the V8 cars. The straight six is also much easier to live with than the V8's. While all of the SL engines are know for their durability the straight six is much cheaper to keep than the V8's which require more maintenance especially now that they are 30 + years old.
It was delivered new in Germany and imported to the US by its first owner. We have the original paperwork and years of service history to document the low mileage and factory equipment options.
The body is in great rust free condition with fantastic paint and an a new looking interior. It runs and drives like you would expect. Of course it also has the factory hardtop.
The engine compartment is clean, correct and tidy. It is equipped with factory air conditioning which is rare in a 280SL. Another advantage the 280 had over the US market cars is anti-lock brakes which did not make its US debut until they equipped the 1986 560SL.
If you are in the market for one of these rapidly appreciating mechanical wonders and want to stand out from the crowd of red 560SL then this gorgeous blue and tan 5-speed SL is the car for you.

For our overseas customers:

We gladly help you to get your classic shipped to your country worldwide and delivered right to your home. With years of experience we work together with the best partners in the shipping business to make sure you classic car gets there . We also offer a "German TUV Service" where we take care of all the things that need to be changed or taken care of, to get it road legal in europe.

Just ask for a quote and - wir sprechen deutsch!
About The Seller
CONTACT INFORMATION
3071 Poplar Grove Rd.
Cookeville, TN 38506
(615) 636-1618
(615) 636-1618