1927 Ford Model T -
$59,900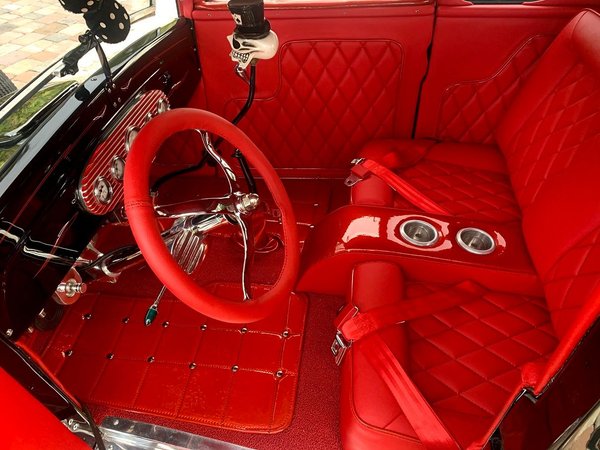 Private Seller - onetogoto
PORT SAINT LUCIE, FL
Description
FOR SALE OR TRADE.
I am not a dealer I'm a privet Seller/Builder.
True Hot Rodders Hot Rod.
Featured in Street Rodder magazine.
This is a Very classy all Steel 1927 Custom Model T Ford Hot Rod Finished in Black with Exquisite detail. If u want one of the coolest Tall Ts around this is for you and Be the one that stands out from the rest at the shows. Here is some specs and info on the car if u have any ?s Just hit me up Thank You .

Also check out the videos on (YOUTUBE)
https://youtu.be/PiUz1FSPqPU
https://youtu.be/yf9Q9tBBECc

For Sale or may Trade. 772-607-3757 FL. $59.900
I am open to different type and multiple trades . .

(BODY).
Real steel body chopped 6'' in front and 4'' in rear.
1932 ford grill shortened 5''.
1950 Pontiac taillights and Original 1940 guide 682 c headlights.
All real glass with flip out windshield.
(Vintique) mirrors and door handles.
Deep black paint with hand pin striping.

(CHASSIS - WHEELS - TIRES).
Full custom very detailed chassis and powder coated gloss black.
135'' Wheelbase.
8'' rear 353 gears, parallel 4 link with (Pete & Jakes) coilovers.
(Pete & Jakes) front drop axle.
(Unisteer) Rack & pinion steering , power brakes.
(Wilwood) front disk brakes (Custom).
Hubs are Buick painted and polished.
(Wheelsmith) 16'' wire wheels.
(Coker/Firestone) white wall tires/Bias Ply.
16 gallon polished stainless gas tank.

(MOTOR).
1953 Highly detailed (Mercury Flat Head) 255 CID.
Custom cut heads by Sledz Customs
Motor Built by Greg Deal and machining by Bridges.
Balanced crank-rods and pistons.
(ISKY) 3/4 CAM , (SPAL) fans.
(Powermaster) powergen 12 volt alternator.
Heads are (Offenhauser) polished and powder coated..
Manifold (Offenhauser) Aluminum with 3 just rebuilt (Stromburgs) 94's.
(MSD) Ignition with red clear (Speedway) wires.
Sanderson) ceramic coated headers.
Polished Exhaust with (Smitty ) mufflers.

(TRANS).
(Tremec) 5 speed , (Honest Charlies) converter & Bell housing.
Custom tall shifter.

(INTERIOR).
Brand new finished on 4/2/20.
All soft touch Red with really cool Red flaked vinyl trim and inserts and. re loop
carpet.
Custom seat all shaped out of foam form fitted to the car with color .matched seat belts.
Original 1927 T Steering wheel , (Lime Works) column.
(Stewart Warner) gauges , Dual cup holders and Dual horns.


Payment Details
Accepted Payment Methods
Cash
Other:
cash or wire transfer
Seller Notes
I am Open to different type of trades . Sorry no boats
About The Seller
PRIVATE SELLER
onetogoto
Member Since September 2003
Honor Payments
Lifetime: 0
Last 12 months: 0
Learn More
No Achievements Yet