2004 Dodge Ram 1500 -
$17,500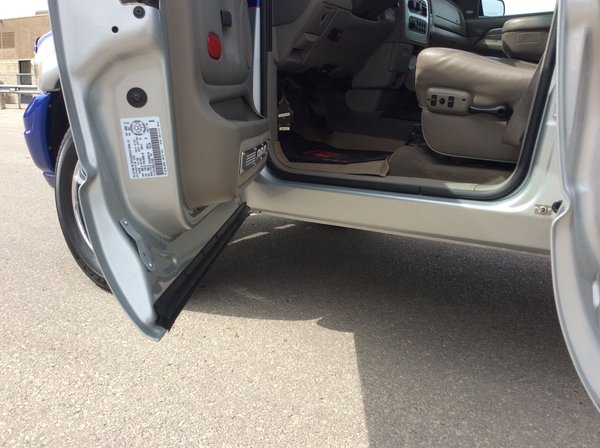 Private Seller - rivercityboat
Winnipeg, MB
Updates From Seller
Immaculate shape for this 2004 Dodge Ram 1500 Laramie edition **VERY RARE,all wheel drive option... limited of these were produced! *VERY Low miles *Never winter driven *Always stored indoors Full load,includes power heated seats,power pedals,P.W.P.D.L.cruise,air,Tilt,leather interior,infinity sound system,Steering wheel controls for stereo. Now the customs section:) *Authentic Dodge Ram SRT 10 hood purchased through dodge( not a cheap aftermarket hood) *Street scene grille inserts upper and lower *Street scene Mirror with signals front and back *Shaved handles all around with door poppers on front door,with remote access *Custom one of a kind paint and striping done in and out *Powder coated calipers and mounting brackets (also polished spindles) *frenched in License plate *Custom rear roll pan with cut outs *New rear diff cover *Electric actuator lift on tonneau cover(opens from inside) *Bed rug full carpet liner *Rear box L.E.D. Lights *All blue L.E.D Interior lights including 2 custom kick plates Motor *Super chip flash tuner *MSD high energy coil packs *Headers with custom exhaust *K&N Cold air intake *throttle body spacer plate This truck has been extremely well cared for. Im only the 2nd owner.Only reason I'm selling it as I just don't use it.This truck has been invited to World of wheels twice... Above Added: Mon September 9, 2019, 1:41 pm PST
Description
Immaculate shape for this 2004 Dodge Ram 1500 Laramie edition
**VERY RARE,all wheel drive option... limited of these were produced!
*Low Kilometres
*Never winter driven
*Always stored indoors
Full load,includes power heated seats,power pedals,P.W.P.D.L.cruise,air,Tilt,leather interior,infinity sound system,Steering wheel controls for stereo.

Now the customs section:)
*Authentic Dodge Ram SRT 10 hood purchased through dodge( not a cheap aftermarket hood)
*Street scene grille inserts upper and lower
*Street scene Mirror with signals front and back
*Shaved handles all around with door poppers on front door,with remote access
*Custom one of a kind paint and striping done in and out
*Powder coated callipers and mounting brackets (also polished spindles)
*frenched in License plate
*Custom rear roll pan with cut outs
*New rear diff cover
*Electric actuator lift on tonneau cover(opens from inside)
*Bed rug full carpet liner
*Rear box L.E.D. Lights
*All blue L.E.D Interior lights including 2 custom kick plates
Motor
*Super chip flash tuner
*MSD high energy coil packs
*Headers with custom exhaust
*K&N Cold air intake
*throttle body spacer plate

This truck has been extremely well cared for.Im only the 2nd owner.Only reason I'm selling it as I just don't use it.This truck has been invited to World of wheels twice...Yes it's at that level!
Payment Details
Accepted Payment Methods
Cash
About The Seller
PRIVATE SELLER
rivercityboat
Member Since August 2018
CONTACT INFORMATION
Winnipeg, MB R2J 0
(204) 771-1997
Honor Payments
Lifetime: 0
Last 12 months: 0
Learn More
No Achievements Yet