1970 Oldsmobile 442 W-30 Tribute -
$52,995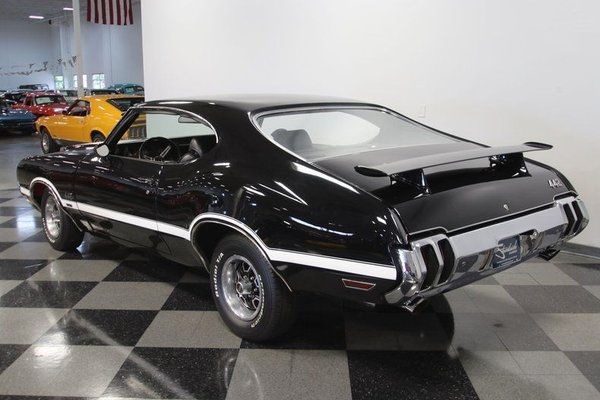 Business Seller - Streetside Classics-Charlotte
CONCORD, NC , US
Description
This 1970 Oldsmobile 442 is a real-deal muscle machine that has been restored with a great coordinating look and some upgraded W-30 flair. So dig into the details - everything from the freshly V8 to the stylish classic interior - and discover a thoughtful and cool muscle car legend.

It's always nice to see a genuine 442 that's ready for action. The black paint has a nice gloss and the body panels fit well to show off the fastback profile. But this is an overall driver-quality presentation, and as the name suggests, it means the kind of car you won't be afraid to take out on a whim and enjoy. There's aggression in the details with the dual large hood scoops, twist locks on the hood, large dual exhaust tips in the notched bumper, and the full-width rear spoiler. But this car isn't all dark side. There's a sophisticated tone with the full white stripe package on the hood and running the full profile. The appeal of this car is as clear as is black and white, literally. And there is some red, too, as you can't help but see the red inner fenders of the hallmark W-30 upgrade peeking out for added intimidation on this muscle car.

The full black interior is exceptionally stylish. Oldsmobiles had some of the best details with walnut-like trim, plush carpeting, and intricate upholstery with both button trim and textured inserts. There are good classic details, like the working dome light and the factory AM/FM radio on display (an AM/FM digital tuner provides your real driving music.) And as a true driver's car, you have front bucket seats, Oldsmobile's four-spoke sports steering wheel, auxiliary readouts under the dash, and a Hurst shifter.

Under the hood is exactly what you want to see: a big block V8 sitting in-between the W-30 lightweight red inner-fenders. It's a real 442 with a W-30 upgrade, and the proper ram-air diaphragm on the air topper is quite authentic. Sure, the motor looks like a beauty, but once you fire up the big 455 cubic-inch V8, it reminds you it's a beastly powerhouse. The big block is said to have been rebuilt within the last 300 miles, and now has a mild cam. It inhales deeply through a four-barrel carburetor and an Edelbrock intake. It exhales with thunderous authority from new long tube headers feeding the dual exhaust. The four-speed manual transmission was said to have been recently rebuilt. It gives you firm control as it connects with the new driveshaft on its way to the stout 12-bolt rear end. There are fully-boxed trailing arms, a rear sway bar, and new shocks to give you confidence out on the road. Plus, you have power steering, power brakes, front discs, and new tires for all-around solid driving.

Complete with owner's manual, this is the real-deal Olds 442 that has the aggressive look you love, extra speedy upgrades, and the right recent investments. So you don't want to resist this total package. Call now!