1997 Lexus LX450 -
$21,995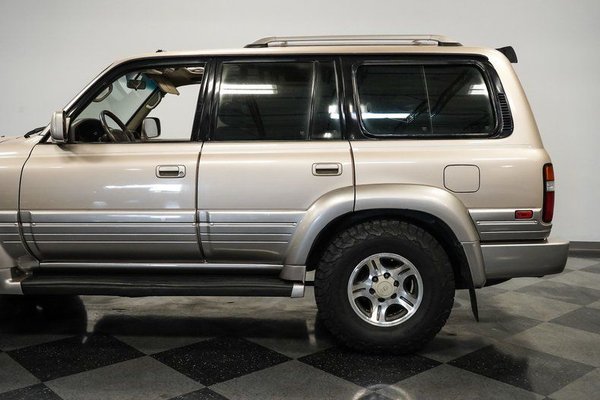 Business Seller - Streetside Classics-Phoenix
MESA, AZ , US
Description
With the price and prestige earned by the Toyota Land Cruiser, it was a no-brainer that Lexus would also get their own version. So this 1997 Lexus LX450 is luxurious and loaded, and at the same time, it upholds the true go-anywhere nature of its iconic 4x4 sibling.
This generation has already earned its reputation for robustness in Land Cruiser, and so we don't even really have to mention it here. Instead, we can talk about style. This one looks quite close to the Toyota because there wasn't much to alter. There was a flat front end to put an authoritative face forward, but it's rounded at the fenders to show there was elegance within the authority. Where the Lexus really showed off its difference was with a standard wide flared fender look. It looks so distinctive because this was given a full professional respray to keep its golden glow. It's part of a history of proper care and investments, and so while this is an actual mileage vehicle, Land Cruiser fans know these are basically perpetual machines when you treat them correctly.
The interior is up to Lexus luxury standards. That means plenty of leather, burled walnut trim, and feature-filled. It's loaded with automatic A/C climate control, power windows, power locks, power front seats, power mirrors, cruise control, dual front airbags, a premium AM/FM/cassette stereo system, and a sunroof. There are three rows of seating, and like a proper Land Cruiser family member, the third row folds against the sides to give you a flat cargo floor. You will find signs of use for an SUV of this age/mileage, but what's impressive is how all your desirable features continue to function with a quality feel. So it still gives you that grand feeling of the Japanese Range Rover.
The Land Cruiser's fuel-injected six-cylinder powerhouse is also used for the Lexus. It's a good choice because the Land Cruisers have a long-standing reputation for hardy inline-six motors. In fact, this one has a large 4.5-liter displacement that you may see in a V8, but it keeps the inline motor's inherent smoothness. That's especially true for this clean and well-maintained example. Around town, this accelerates smoothly, and the four-speed automatic transmission shifts cleanly all the way into overdrive. When the pavement ends, the two-speed transfer case and beefy axles make sure this is a true 4x4. Plus, power steering and four-wheel power disc brakes make for easier driving in all conditions.
The sale comes complete with the owner's manual packet. There's a reason you don't see many of these for sale; it's because the owners don't want to let them go. Combining the unbeatable go-anywhere abilities of the Land Cruiser with the luxury of a Lexus is a winning combination. Call today!!!