1971 Volkswagen Type 2 Single Cab -
$19,995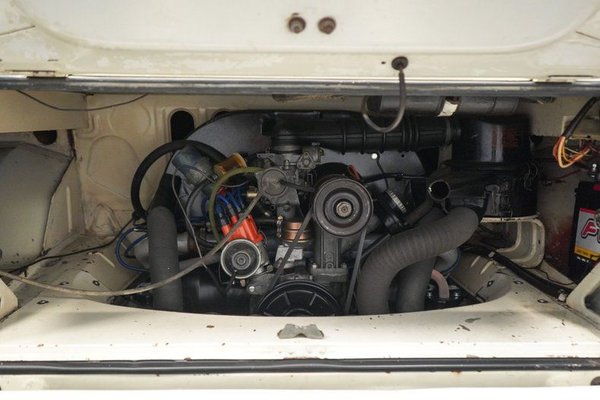 Business Seller - Streetside Classics-Phoenix
MESA, AZ
Description
This is one of those cool classics that generate interest wherever it goes, especially with VW people. After all, a 1971 Volkswagen Type 2 Transporter panel truck like this wasn't even allowed in the USA when new. So to have something this unique in a survivor-grade pickup is already attractive, even before you check out the affordable price.


The Chicken Tax had made it too expensive for VW to import trucks to the USA, and a second-generation Type 2 like this was never sold here new. So this had to be independently imported. Today, this vehicle is at a crossroads...it's complete and driving pickup that can be the right foundation for your street machine build (this polished EMPI wheels hint at the possibilities,) or it can be turned into a great way to promote your business. Either way, you'll be impressed by both the form and function of this pickup. Volkswagen was quite clever at how to stack cargo, and that's why you can take down any side of the bed for easy loading. Or, you can even fold down all sides and turn your pickup into a flatbed transporter. There's even storage under the bed.


Just like the exterior, the interior is quite original with great survivor-grade touches throughout. With more than just an interesting history, these were great for giving the driver a commanding view of the road. Most of the components here are interchangeable with the Type 2 Bus, and so there is an easy supply of aftermarket pieces for you to give a personal touch to the interior. And speaking of familiar, the large factory dual-spoke steering wheel and easy to reach gearshift should feel recognizable to VW fans.


The 1600cc motor is a big part of this pickup's desirability. It's the same flat-four that brought the Beetle its global reputation for being tough-as-nails. So to have it in a pickup only adds to its utility. That's why the rest of the world has used these for everything from farm vehicles to medical transport. The motor has been under proper care, so it fires up easily and runs nicely. Plus, it's linked to the sturdy and versatile four-speed manual transmission, which allows you to get the most out of the motor. It's an unbeatable package that provides robust and fun driving. And while the drivetrain is part of that rugged Beetle tradition, the second-generation Type 2s benefit from the improved rear suspension design and front disc brakes.


You know these don't come up for sale too often in the USA, and so it's time to act fast before one of the most affordable examples is gone forever. Call today!!!
About The Seller
CONTACT INFORMATION
614 E. Auto Center Dr.
MESA, AZ 85204
(480) 926-1344
+14809261344