1974 Plymouth Duster -
$26,995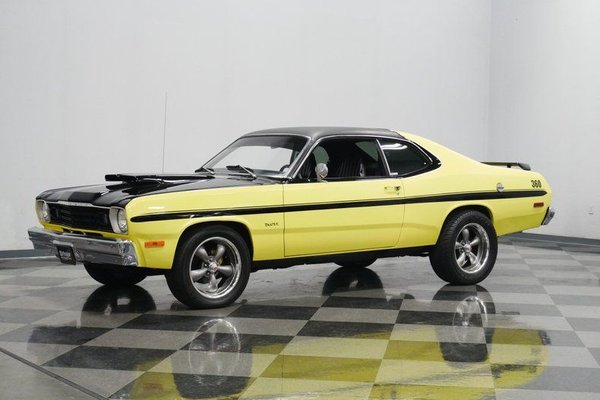 Business Seller - Streetside Classics - Nashville
LA VERGNE, TN
Description
This 1974 Plymouth Duster has a bold look, upgraded V8 power, and the ability to truly bring some thunder to the streets. So it's worth taking a look at this detail-oriented muscle Mopar package that's offered right now for quite an obtainable price.

Yellow Blaze in a great 1974-correct Plymouth color, and it only gets better when this bold paint is part of a more recent respray. And of course, there's arguably no better timeless color combo than yellow and black. So the sporty aggressive elements were done dark, like the hood with tall dual display scoops, full-length sports stripes, deeply tinted windows, and a full-width rear spoiler. But there's also an overall premium feel to this performance package. After all, you also have a half vinyl roof done in black. Straight body panels, good gloss, and bright bumpers are all part of this quality package, too. And the upgraded Coys 17-inch alloys with extra meaty rear tires seem to be a nice balance of a proper investment in form and function.

All the black accenting of the exterior is also a preview of the full black interior. High-back bucket seats, newer carpeting, a tidy trunk, and a cool carbon fiber texture to the dash all give this the proper feeling of a well-done coupe. There's added comfort with an armrest center console, cup holders, and an upgraded AM/FM/CD stereo with modern Bluetooth. Plus, you get the right tingle of performance from the Grant sports steering wheel and Summit auxiliary gauges added to the dash.

Mopar's 360 cubic-inch motor is one of those great V8s know for both sturdiness and power. That's especially true here where there are even newer pieces, like the alternator, fuel pump and stainless hoses. And the yellow Accel high temp wires go right past the black Offenhauser fined valve covers for some of that same cool color appeal as the exterior. This V8 inhales deeply with an Edelbrock four-barrel carburetor and Edelbrock Performer aluminum intake. It exhales with added power and authority as long tube headers feed the dual exhaust. The Torqueflite A727 three-speed automatic transmission is a stout unit that knows how to handle the power. Plus, you have power steering, front disc brakes, and the grip of modern performance tires.

This is the bold and powerful Mopar muscle machine that's also offered for a price that's irresistible. Don't miss this Duster, call today!