1992 Mercedes-Benz 500SL -
$9,000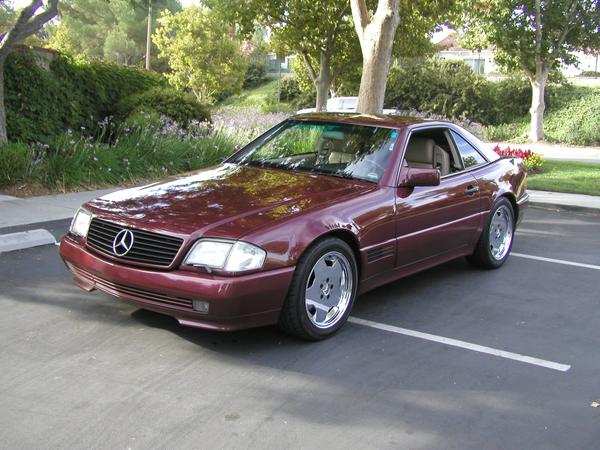 Private Seller - bblaseck
Saratoga, CA, CA
Updates From Seller
Please note...the pic of the odometer shows less mileage because at the time, the car was being driven on a regular basis. Above Added: Wed January 1, 2020, 12:28 pm PST
Description
I'm putting our 1992 Mercedes Benz 500sl up for sale. This car that has been in the family for many, many years. This Benz is best enjoyed while driving around town with the top down!
Our Benz has that sexy burgundy exterior color with a sharp looking champagne interior color. The car is in great shape as it has been constantly garaged and kept in a non smoking environment.
The car exterior paint and black convertible top are both original. The car also comes with a hard top. The 17" chrome wheels are AMG monoblocks (no curb rash). The sound system was upgraded a few years back with a pioneer head unit, DL Audio subwoofer and speakers. I do have the original radio which will be included in the sale. The car has a newer (non factory) alarm, upgraded steering wheel, upgraded dashboard bezels and updated rear tail lights. . A windscreen is included. I will include a garage winch in the sale which helps in hoisting the hard top on/off the car.
We have all service records.
The car is currently sitting in our garage and is not being driven.

Payment Details
Accepted Payment Methods
Paypal, Money Order, Cash
Other:
wire transfer
Seller Notes
The price is negotiable. Clear title. Wire transfer, local cashier's check or local money order only

About The Seller
PRIVATE SELLER
bblaseck
Member Since January 2020
CONTACT INFORMATION
Saratoga, CA, CA 95070
(661) 803-3130
Honor Payments
Lifetime: 0
Last 12 months: 0
Learn More
No Achievements Yet