2020 Bravo 32' Stacker Dragster Lift -
$64,900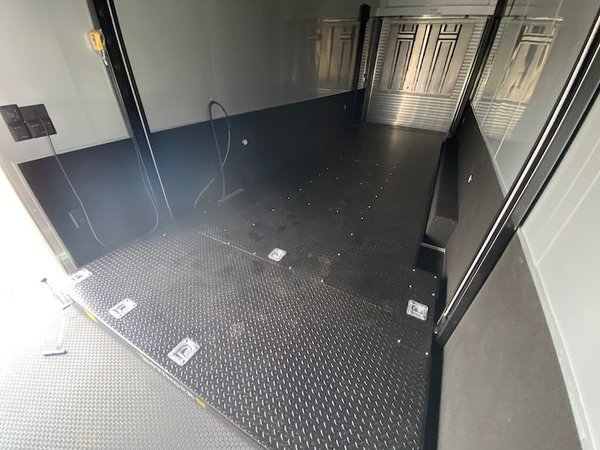 Private Seller - RACINGRVS
BROOKVILLE, OH
Description
2020 32' Bravo Icon Stacker With 24' Dragster Lift
http://racingrvs.com/view/Bravo32-Stacker/318.html
An incredible trailer capable of holding up to 4 dragsters with an open floor and 24' long stinger lift so you can have the ability to put two dragsters on the lift, and put two dragsters on the bottom. This trailer also has the ability to carry 2 full-sized cars allowing you to travel with multiple different setups. This trailer has some great features for luxury and functional purposes, the floor is rubber coin throughout; the walls have carpet 3ft up the wall including the door, the interior is a mix of black, grey, and white. The door is 93" tall, and it's 92" wide with a 60" door flap extension. Front cabinets and a toolbox, another great feature is the "safe" that is located on the front cabinets allowing you to lock up your valuables while you're away.
Options Including
18' Awning, hydraulic jack, spread axles, 128" above toolbox loft, 36" stone guard protector, Rear spoiler with LED lights, LED lights throughout, Outside Bluetooth speakers, multiple airline connections. AND MUCH MORE!!!
Specs-
49" top deck opening
25' floor opening
80" between wheel wells
bottom cabinets are 5'9"
60" slide door
37' total length
32'6" interior
rear door amp 93"
Model Bravo 32' Stacker
Year 2019
Box size 32
Price $64,900
Suspension Torsion
Brakes Electric
Body Type Enclosed
Exterior Color White
VIN code 542BE323XLB028713
Generator Prepped, Boxed and Wired
Frame Steel
Lift 24'
Call us for more details!!!
Finance options!!
We take trades!!
Nationwide delivery!!
JOE FISHER
419-236-1328
RACING RVS
Email us at
[email protected]
About The Seller
PRIVATE SELLER
RACINGRVS
Member Since September 2011
Honor Payments
Lifetime: 0
Last 12 months: 0
Learn More
No Achievements Yet