PRE EMMISSION***PRE EMISSION***PRE EMISSION -
$149,000
2004 Registered Motor-Home/Transporter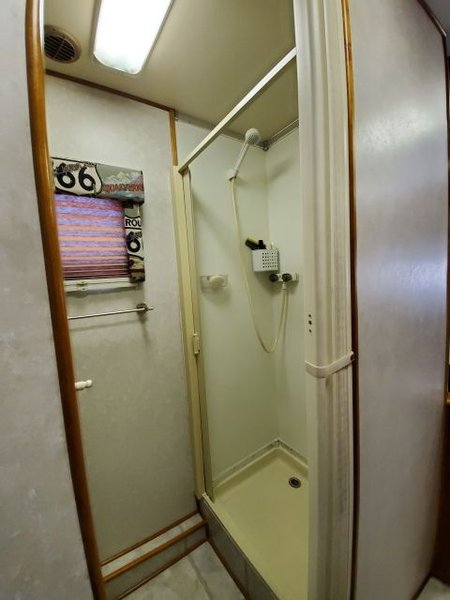 Private Seller - bdr34
SHOW LOW, AZ
Description
Totally Custom Built from 2002 Volvo VNL-610 Tractor,12.7 ltr.Detroit 500 HP.,10 Speed Fuller Trans.,275 Amp. Aux. Alternator mated with a 2003 Freightliner Chassis to form a 45' self contained 2 Car Stacker + Living Quarters.

The Motor-Home section is 12'with a 6'10"Slide Room,3/4 Bath, w/Sink/Shower/Kitchenw/Sink/Refrig/Convection Microwave.Cherrywood Cabinets/King Dome Direct TV/Surround Sound System/Carrier A/C/Heat Pump/50AmpShore Power/Magnum Inverter?Rheem H2O heater/98 Gal.Fresh/60Gal Grey/40Gal Black.

Custom 18'Cargo Area w/Custom Enginerred Aluminum Adjustable Upper Lift Ramp w/ Extended Loading Ramps Can Accommadate Any Race Car..50 Amp. Shore Power/8KW PowerTech Gen/Magnum Inverter/Air Comp./Tool Cab/Wheel/Tire Storage/Floor Storage Box/Belly Box Storage/Nitrogen Bottle Rack/Pit Lighting/Large Awning/Air Dump Rear axel/Custom Pit Cart Rack.

Currently Showing 262,000 Miles( Break-In Milage For a Tractor)Combination Eliminates the Toter/Trailer Hassle of Pit Space+ Totally Self Contained. Great for Track Events/Rallies/Off Road/or Traveling with Cars/ Motorcycles.

As A 45' Motor-Home It Is Legal Length/Subject to Motor-Home Speed Limits/Perfect For RV Parks/NO CDL REQUIRED.

BIG ADVANTAGES ARE--NO EXPENSIVE--POWER ROBBING--DIESEL EXHAUST BURNER--DEF FLUIDS--TO MESS WITH.
Payment Details
Accepted Payment Methods
Cash
Other:
Wire Transfer
About The Seller
PRIVATE SELLER
bdr34
Member Since August 2019
CONTACT INFORMATION
SHOW LOW, AZ 85902
(480) 510-5510
Honor Payments
Lifetime: 0
Last 12 months: 0
Learn More
No Achievements Yet