1935 Ford Custom / HotRod Pickup Truck -
$65,000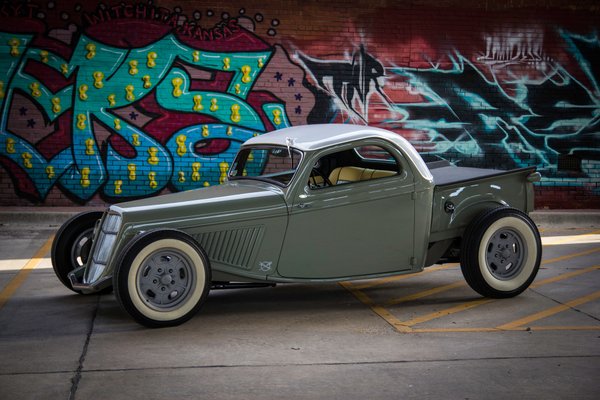 Private Seller - radkoracing
WICHITA, KS
Description
1935 Ford Custom / HotRod Pickup Truck

This Radical Custom has been Nationally recognized as one of the most significant builds in the industry. Displayed and featured in numerous (see magazines photo) custom and rodding magazines (list furnished upon request) and adorning the cover of American Rodder. Over 3000 hours of sheetmetal work alone. The truck was invited to and competed at the prestigious "Grand National Roadster Show" at the LA County Fairplex where it took a podium finish in the "Radical Custom Pickup" category. Other accolades include a "Goodguys Fab Five" pick at the Colorado Springs Nationals and a "Boyd's Pick" at the Goodguys Lone Star Nationals. Wins "Best of Show" at nearly every local venue where its entered. This truck also has a "Best Engineered" award which attests to its ability to perform exceedingly well on the road. With its Olds Quad 4/T5/Halibrand Quick Change power train, and an excellent power to weight ratio, it is a hoot to drive! Have a close look at the specs and photos and contact me with any questions. Serious inquiries only please. Call or text 316-371-6247

CHASSIS
This is a "One-Off" Chassis professionally designed in CAD for this build only. It is laser cut from sheet steel and professionally TIG welded to form an elegant, solid and "Show Quality" foundation. (see drawings) Frame is Powder Coated in body color for beauty and durability. Front axle is a "Super Bell" with a 5" drop. Dampers are "Pete and Jakes". Front Disc Brakes are "Super Bell Super Stoppers" with finned backing plate/caliper mounts. Rear axle is a genuine "Halibrand V8 Quick Change" dampened by "Pete and Jakes" and stopped by Bendix/Mercury Highway Patrol drums.

ENGINE
Not a Small Block Chevy or a Windsor Ford! Powering this 2600 pound rocketship is the race-bred Oldsmobile high compression, twin-cam, 4 valves per cylinder QUAD 4! (see details on the QUAD 4 powered Olds AEROTECH below) And it is what makes this little Hot Rod so much fun to drive and show. Very few show-goers can identify this engine. It runs like Swiss watch, makes excellent power and sounds like an offy! Cams are chain driven (not a belt) and induction is the simple and dependable Holley 2300 Carb (no computer needed). Headers are powder-coated, wrapped and split into dual exhaust with remote operated cutouts. Ignition system is crank-triggered (distributorless), coils and advance module are hidden behind the firewall and secondary wires are period correct. Runs on Premium pump Gasoline.

TRANS
The venerable TREMEC T-5 5-speed. Shifting is solid and precise. With 4:11 gears in the Quick Change, use 4th gear up to about 65mph, then overdrive 5th gear keeps the motor spinning right in the middle of the torque curve at interstate speeds.

BODY
All steel and a true work of art! Many hours went into the conception and design of this amazing body (see drawings). Started life as a 1935 Ford Pickup Truck but there is not a panel on this deal that has not been molested! 3000+ hours of hand fabrication. (do the math @$75/hr shop rate!) The channeled cab is stretched 12" to give plenty of leg room as the top is conservatively chopped and utilizes a '36 Ford sedan roof section. Windshield is laid back. Firewall is beautifully redesigned to match the architecture of the package. The hand-built nose assembly is one piece and hinges forward to give superb access to the powerplant (she's a dream to work on). Dual latches from a Jaguar are activated from inside the cab. The bed assembly, also hand-built is a great place to haul your chairs, luggage, and ice chest. It features a gas strut supported hard cover that hinges up and locks down with a hidden release. Entire truck is freshly repainted in a 1950's look show-quality gray-green. Paint formula is on file at my painter's shop.

INTERIOR
Upholstery is also new and is a 1950's style pale yellow and white tuck and roll with black piping. Chosen to contrast nicely with the subdued gray-green body color. Flooring material is a new product from Dynamat called Dynadeck. Upholstery and floor are marine-grade and waterproof. Clean it all up with a damp microfiber towel. New instrument panel features old-school "Stewart-Warner" and "Sun" gauges surrounded by genuine Fender Guitar pearloid pick-guard material. Steering column is a stainless steel "Flaming River" with a clip-on flashlight (some of you old-timers will remember) and the 4 spoke, Sprint Car steering wheel is from "Speedway Motors". In-dash A/C is "Vintage Air". There is a Pyramid Stereo system installed in an overhead console with behind-the-seat speakers but hook-up has not been finalized…I prefer to hear the motor. A chrome plated fire extinguisher mounts under the dash. The "Centech" fuse panel and relays are all mounted inside the glove-box for easy access. There is a hidden Master Disconnect Switch within easy access of the driver. All the wiring in this truck is new and professionally installed by me. Full wiring diagrams of all circuits will be supplied.

WHEELS AND TIRES
Wheels are Halibrand Copies made by Rocket. 5 on 5-1/2" bolt circle. The finish is called "As Cast" They go nicely with the "Competition Theme" of the car and the Halibrand rear. Tires are wide-white Coker Classics and are radials. Fronts are 550-16 and rears are 700-16. They give a great ride and handling. So new the nubs aren't worn off yet.

PRODUCTS
GM Oldsmobile Div., Tremec, Halibrand, Rocket Wheels, Coker, Super Bell, Offenhauser, Holley, Stewart-Warner, Sun, Flaming River, Vintage Air, Bendix, Factory 5, Mooneyes, SoCal Speed Shop, Speedway Mtrs, Dynamat, Fender, Jegs, Centech, Quad 4 Rods, AC Delco, Castrol

INVEST
This World-Class Pickup is buttoned up and ready to Rock and Roll. Road Trip or National Show Venue. You're guaranteed to never see another build like it anywhere you go. Kept in a heated garage and given anything it ever needed. In these uncertain times, invest your money into something that will only appreciate in value. Call or text me anytime but serious inquiries only. BTW, I have a like new 8-1/2 X 24' V-nose enclosed trailer for sale also. 10K GVW.
Payment Details
Accepted Payment Methods
Money Order, Cash
About The Seller
PRIVATE SELLER
radkoracing
Member Since September 2020
Honor Payments
Lifetime: 0
Last 12 months: 0
Learn More
No Achievements Yet